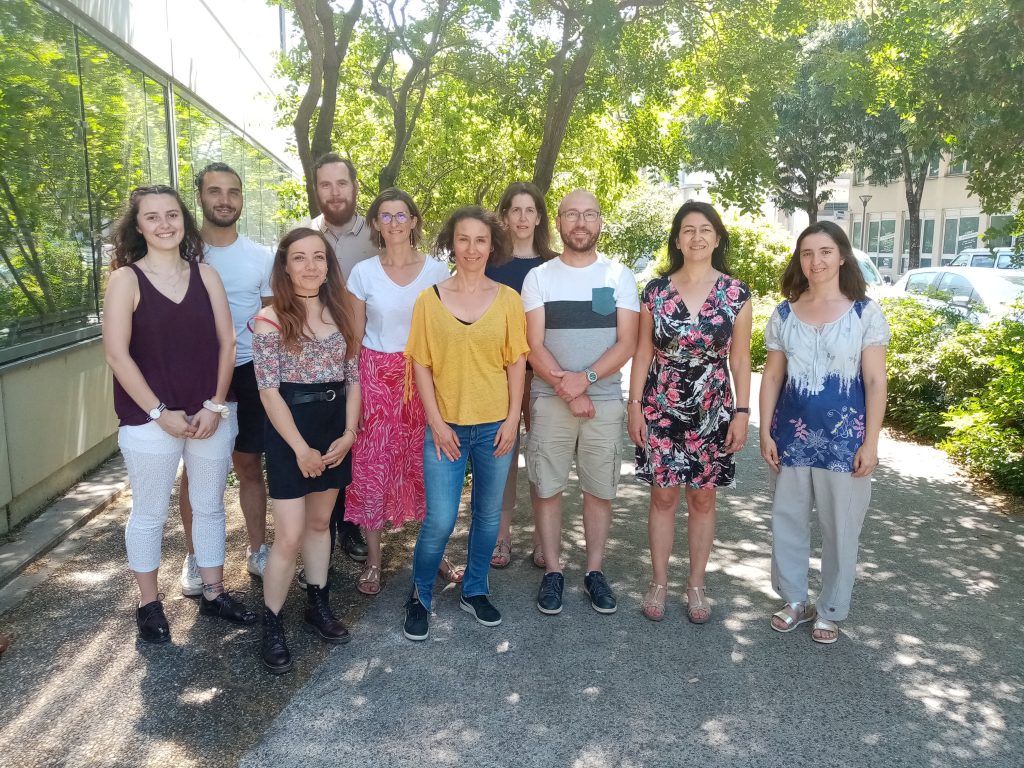 Introduction
Le groupe développe des méthodes analytiques, basées sur des stratégies ciblées et non ciblées par spectrométrie de masse, pour améliorer les méthodes de caractérisation des marqueurs de pollution et l'impact des contaminants organiques sur la santé humaine ou les espèces sentinelles environnementales.
Axes de recherche
L'équipe TRACES développe des méthodes innovantes impliquant des améliorations à chaque étape du protocole analytique : prélèvement, préparation des échantillons, séparation chromatographique, détection par spectrométrie de masse et analyse des données (échantillonneur passif miniaturisé, dSPE, SPE-LC-MS/MS en ligne, (micro)QuEChERS, SALLE, nano-LC-MS/MS, MS/MS/MS, LC- ou GC-HRMS…).
La stratégie d'analyses ciblées développée vise à quantifier des traces et ultra-traces de contaminants prioritaires, émergents, ou difficilement analysables par des méthodes classiques comme les produits de transformation, métabolites, contaminants (ultra)polaires dans des matrices environnementales (eau, sol, sédiments, boues, espèces sentinelles, … ) et fluides biologiques (sang, urine, sérum, tissus…). Les développements mis en œuvre visent à abaisser les limites de quantification, à améliorer la sélectivité et/ou à réduire la prise d'essai tout en limitant l'empreinte environnementale.
La recherche de ces mêmes contaminants de manière non ciblée et l'identification de biomarqueurs ou marqueurs d'expositions via des approches de métabolomique, par LC- ou GC-HRMS, sont également mises en œuvre via l'interrogation de bases de données internes, constructeur ou disponibles en ligne et l'utilisation de traitements statistiques des données adaptés à la problématique.
Les optimisations de méthodes et la combinaison de stratégies analytiques ciblées et non ciblées mises en œuvre au sein de l'équipe TRACES s'intègrent complètement dans les concept d'Exposome Environnemental et One Health et permettent une meilleure compréhension des interactions Environnement-Santé.
Projets de recherche
MixTox : Evaluation des impacts écotoxicologiques de cocktails de produits phytosanitaires dans les sols agricoles
Financement ADEME. Durée 36 mois.
Partenaires : INRAe UMR EcoSys (porteur), Equipes Ecotoxicologie et Science du sol, Versailles INRAE – Université d'Avignon, UMR EMMAH, AvignonCNRS – Université de Franche-Comté, UMR Chrono-Environnement, Besançon
Le projet MixTox a pour objectif de produire des connaissances nouvelles concernant la qualité des sols, en caractérisant de manière réaliste l'exposition des milieux traités et non traités par les pesticides ainsi que l'exposition des organismes, et en évaluant les effets indésirables sur la biodiversité et les fonctions écologiques associées.
Dans ce projet, l'équipe TRACES est en charge développer les outils permettant d'évaluer la contamination des sols échantillonnés par les pesticides, ainsi que des vers de terre et carabes collectés dans la zone d'étude, par un screening large sans a priori. L'équipe développera ensuite des protocoles analytiques spécifiques et sensibles pour quantifier les molécules sélectionnées par LC-MS/MS et GC-MS dans ces matrices.
PESPOT : Occurrence de pesticides ultra-polaires et de leurs produits de transformation dans les eaux potables
Financement Office Français de la Biodiversité, dans le cadre de « l'Appel à projets national sur le plan Ecophyto II+ ». Durée 36 mois.
Partenaires : ANSES – Laboratoire d'Hydrologie de Nancy, Nancy – SUEZ, CIRSEE, Le Pecq
Ce projet a pour objectif de caractériser des molécules mobiles, organiques et persistantes (PMOCs) dans les réseaux d'eau potables ainsi que de renseigner leurs dynamiques au cours du procédé de potabilisation. Il cible plus particulièrement les pesticides, leurs produits de dégradation, ainsi que les résidus d'oxydation qui auraient pu être formés entre l'eau brute et l'eau traitée. En effet, ces molécules ne sont actuellement pas contrôlées dans le cadre des suivis règlementaires car trop polaires pour les méthodes conventionnelles, et le recul scientifique en terme de toxicité ou de dynamique est donc actuellement très faible. Ce projet vise à apporter des connaissances sur ces contaminants de préoccupation émergeante, et permettra aux gestionnaires de l'eau de mieux estimer la vulnérabilité des leurs usines face aux activités agricoles attenantes.
Dans ce projet, l'équipe TRACES est en charge développer des nouveaux outils d'échantillonnage passif (Chemcatchers) nécessaires à la caractérisation des contaminants ultra-polaires d'intérêt dans les eaux brutes et traitées. Cette caractéristique des PMOCs ne permet pas leur analyse avec des méthodes conventionnelles basées sur la RPLC, et une méthode HILIC semble plus adaptée. Ainsi, suite à un premier travail de référencement des molécules pertinentes, l'équipe est en charge de développer une méthode de séparation adaptée afin de les identifier via des approches de criblage de suspects par HILIC-HRMS.
BIOSYSMO : Bioremediation systems exploiting synergies for improved removal of mixed pollutants 
Financement Horizon Europe. Durée 48 mois.
Partenaires : IDENER Research & Development Agrupacion de Interes Economico, Espagne – UBU Universidad de Burgos, Espagne – JSI Institut Jozef Stefan, Slovénie – LEITAT Acondicionamiento Tarrasense Associacion, Espagne – UBFC Université Bourgogne Franche Comté, France – Imperial College of Science Technology and Medicine, Angleterre – BSY Blue Synergy SL, Espagne – CIIMAR Centro Interdisciplinar de Investigacao Marinha e Ambiental, Portugal – UPM Universidad Politecnica de Madrid, Espagne – AXIA Axia Innovation UG, Allemagne – TAUW GMBH, TAUW Belgie NV, TAUW Iberia SA, TAUW Allemagne, Belgique, Espagne – EXELISIS Exelisis IKE, Grèce
Le projet BIOSYSMO a pour but de concevoir et optimiser des biosystèmes synergiques résultant de combinaisons de bactéries, de champignons et de plantes pour la dégradation et la séquestration des contaminants mixtes des sols, sédiments et eaux pollués. L'optimisation sera assistée par ordinateur afin d'obtenir les combinaisons les plus efficaces.
Dans ce projet l'équipe TRACES est en charge de développer des méthodes permettant d'évaluer la contamination de certains sites, d'étudier la dégradation des micropolluants ciblés par microLC-MS/MS et GC-MS, et d'identifier les éventuels produits de dégradations résiduels issus des traitements de bioremédiation dans les sols et eaux pollués.
SERIOUS: Social and environmental risk factors in the emergence of mosquito-borne diseases in urban areas
Financement ANR. Durée 48 mois.
Partenaires : CNRS, INRAe, Univ Lyon 1, VetAgroSup, Laboratoire d'Ecologie Microbienne (LEM), UMR 5557, Villeurbanne – Laboratoire Environnement, Ville et Société (EVS), UMR 5600, Lyon – INRAe, Univ Lyon 1, EPHE, Infection Virales Pathologies Comparées (IFPC), UMR 754, Lyon – Laboratoire d'Informatique en Image et Systèmes d'Information (LIRIS), UMR 5205, Villeurbanne
Le projet SERIOUS a pour but d'évaluer si la présence du moustique tigre en ville est associée à des caractéristiques spécifiques en termes de composition chimique et microbienne des gîtes larvaires et si ces conditions modulent le microbiote associé aux larves, le développement larvaire et/ou la sélection des sites de reproduction par les femelles.
Dans ce projet, l'équipe TRACES est en charge de mettre au point et appliquer des méthodes d'analyse exhaustives des molécules organiques présentes dans les eaux des gites larvaires. Différentes méthodes d'extraction seront testées en vue de screening suspect et non ciblé par spectrométrie de masse haute résolution (HRMS).
DISCONNECT : Désimperméabilisation et infiltration des eaux pluviales dans des sols urbains – Mobilité des contaminants organiques et non-organiques vers la nappe et évaluation des conséquences de leur transfert
Financement ANR. Durée 24 mois.
Partenaires : CNRS, ENTPE, Univ Lyon 1, Laboratoire d'Ecologie des Hydrosystèmes Naturels et Anthropisés (LEHNA), UMR 5023, Villeurbanne – INSA Lyon, Univ Lyon 1, Déchets, Eaux, Environnement, Pollutions (DEEP), EA 7429, Villeurbanne – GRAIE, pôle Eau et Territoires, Villeurbanne
Le projet DISCONNECT vise à étudier les transferts et les impacts des polluants organiques et inorganiques liés à l'infiltration des eaux pluviales vers/sur les aquifères phréatiques, en considérant la nature et la qualité des sols traversés, souvent enrichis en métaux et autres substances organiques.
Dans ce projet, l'équipe TRACES assure la caractérisation en micropolluants organiques des lixiviats et sols afin d'évaluer les transferts, notamment les Hydrocarbures Aromatiques Polycycliques (HAP). Elle développe et est également en charge du suivi des nappes phréatiques par échantillonnage passif.
Capacités expérimentales et instrumentales
Préparation d'échantillons 
ASE 350 Dionex Thermo Fisher Scientific
AutoTrace 280 Dionex Thermo Fisher Scientific
Rapid Trace Zymark (Biotage / Caliper / Artisan Scientific)
GenoGrinder 2010 SPEX Sample Prep
miVac DUO concentrator (GeneVac)
TurboVap LV Zymark (Biotage)
Lyophilisateur BioBlock Scientific Alpha 2-4 LD plus
Couplages
LC-MS/MS :
UHPLC 1290 (Agilent Technologies) – API4000 QTRAP (Sciex)
UHPLC 1290 (Agilent Technologies) – 5500 QTrap (Sciex)
UPLC Acquity H-Class (Waters) / UPLC Acquity M-Class (Waters) – Xevo TQ-S (Waters)
LC-HRMS :
UHPLC Ultimate 3000 (Thermo Fisher Scientific) – microToF QII (Bruker Daltonics)
UHPLC Ultimate 3000 (Thermo Fisher Scientific) / Ultimate 3000 nanoLC Thermo Fisher Scientific – MaXIS Plus (Bruker Daltonics)
GC-HRMS :
GC Trace 1310 (Thermo Fisher Scientific) – Exactive GC (Thermo Fisher Scientific) (Orbitrap technology)
GC 6890N (Agilent Technologies) – Waters GCT Premier (Micromass MS Technologies) (ToF technology)
GC-MS :
GC 6890 (Agilent Technologies) avec système HeadSpace G1888 Network Headspace Sampler – 5973inert (Agilent Technologies) (quadripole technology)
Personnels
Chercheurs et enseignants-chercheurs
Publications (sources HAL)